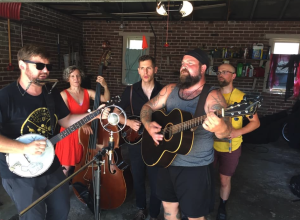 Since early college, mandolin has been top on my "next instrument to learn" list. I did finally start playing a few years ago when my former bandmates from Whiskey Doubles gifted me a mandolin as a new-house gift, and I did end up playing two songs with that group on mandolin, but never really felt comfortable with the instrument. After a few years of it mostly just hanging on the wall, I started playing it near daily this year, usually 15-30 minutes a day, teaching myself some bluegrass and americana staples, as well as working on my own arrangements of songs like "Amazing Grace" and "When the Saints Go Marching In". And now I've just finished my first gig with the instrument!
Technically I did play a few gigs with Whiskey Doubles on mandolin, but just a few songs here and there. I'm counting my first official mandolin gig as this last Saturday's performance with Pay the Devil at the Riverwest 24 bike race. I got the message that Matt, their mandolin player, couldn't make it, a few days before the gig. I started prepping some cello solos, but my wife asked me "You're filling in for Matt? Why don't you just play the mandolin?" It still took a bit of practice, but within an hour or two I was more comfortable with those songs on mandolin than I ever would have been on cello. Intonation and phrasing are so much less forgiving on cello, and it's an instrument I did not learn with a folk and improv mindset, so it really takes a lot of effort to feel in the pocket. With mandolin though, I've been learning licks and improv scales since I started, so it was very easy to just jump in.
I'll try to dig up some pictures, audio, or maybe even video, but for now, you'll just have to take my word for it: "I play mandolin now".